召集中
Pyjama Days @ Home
本站组织 于2021年12月30日发起 距报名截止还有0天报名已截止
活动介绍
Events Description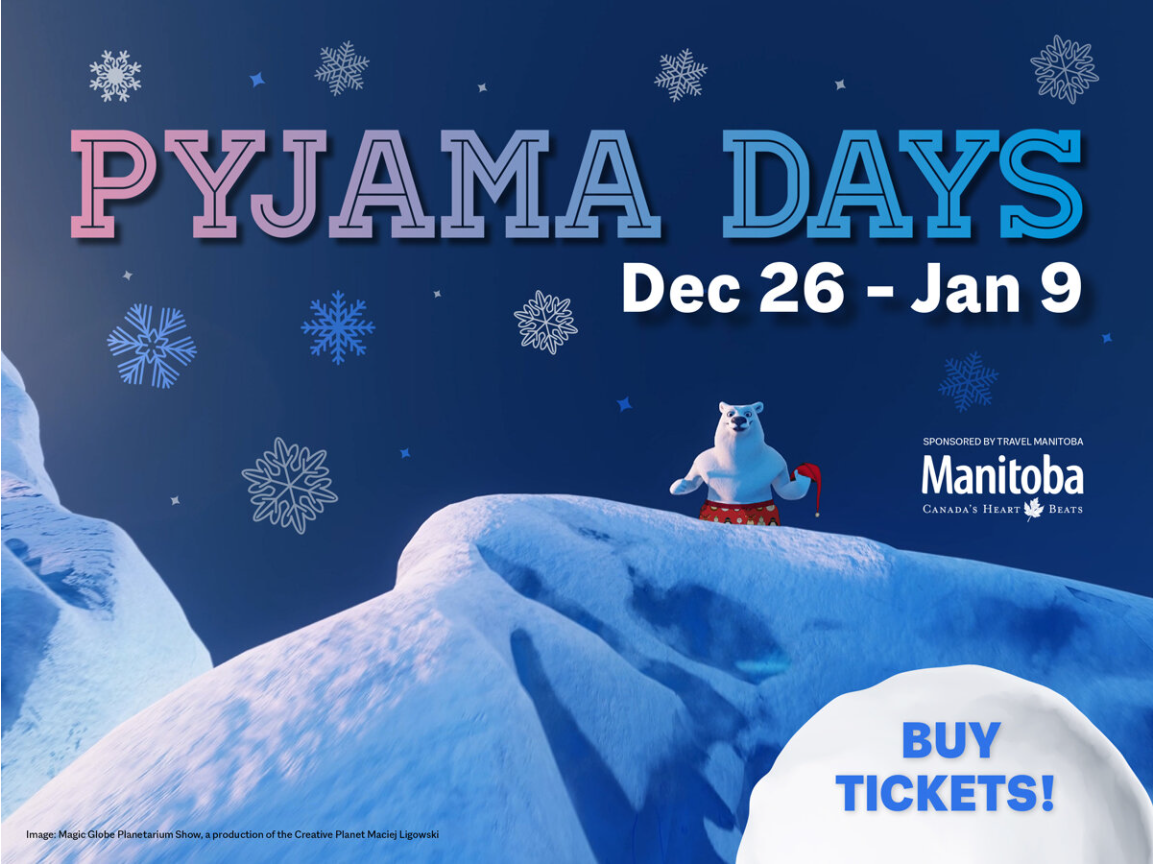 Celebrate all things winter this holiday season!
It's going to be brrr-illiant! Stay in your favourite pyjamas and celebrate all things winter with us during Pyjama Days @ Home.
What's happening during Pyjama Days?
Cool-as-ice science demonstrations
Virtual Tours
DOME@HOME programs
Fun with Static and Ice! Science Demonstrations
Dates & times to be confirmed
What better way to celebrate the Winter Break then with jaw-dropping experiments about two common elements of the season: static electricity and freezing temperatures. Ever wonder why you get a ZAAAP when you walk across the carpet, or take off a sweater in the winter? It's SCIENCE! And we'll show you why it happens in ways guaranteed to shock you! And if you think it's cold outside, we've got something even colder… liquid nitrogen. You'll get chills as we freeze objects faster and colder than your nose on a frosty Manitoba night!
DOME@HOME
December 30 @ 7 pm
We will look forward to the top ten astronomy events of 2022 so you can plan your year! We'll reveal a pair of total lunar eclipses, a potentially-bright comet, a mega-meteor shower, and the best times to see the moon and planets in 2022.
Plus, a look at 2022's launch schedule, from robotic spacecraft to human explorers.
Join us on Facebook or YouTube live!
Want to explore the Nonsuch at home in your pajamas?
December 31 @ 10 am
Join us virtually on Zoom for a New Year's Eve visit to the Nonsuch. We'll explore the ship and answer your questions about this full-sized ship live at 10 am on Friday, December 31.
Register for this FREE program, here.
Want to explore the winter skies from the comfort of home?
DOME@HOME: Special Program
December 30 @ 7 pm
The DOME@HOME all-sky camera systems will be out to record the Quadrantid meteor shower. It's also New Moon, which means we can expect dark skies for the shower. This is also a perfect time to observe other celestial objects.
Join us on Facebook or YouTube live!
In case of cloudy skies, the event will be cancelled.
HOW MUCH
Tickets: Free; Some programs require registration
WHEN & WHERE
Date: December 26, 2021 – January 9, 2022
Venue & Address: At Home