召集中
The Big Bounce Park
网友自发 于2022年06月22日发起 距报名截止还有96天报名已截止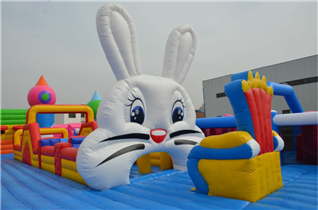 0人已报
| 活动名额 | 活动费用 | 在线缴费 |
| --- | --- | --- |
| 不限 | $21 - $31.50 | 报名费 |
活动时间2022-6-15 - 2022-9-30
活动团长亿度传媒 The Big Bounce Park报名参加
活动介绍


Events Description
THE BIG BOUNCE PARK is Canada's biggest outdoor Inflatable theme park. This is NOT your typical bounce house! Covering an area of just over 13,000 square foot and standing with maximum height of 32ft.
We've worked hard to ensure there is never a dull moment in this, the Canada's Biggest Bounce House.
We've created a crazy inflatable Park with some of the most amazing, completely customized attractions you'll have ever seen. Not only does our massive bouncer look spectacular, it really does have something for everyone within its four walls of fun.
We've got basketball hoops for those big-air slam-dunks, climbing towers that reach to the sky, a giant slide that takes you outside the main structure, leap of faith that take you a height of 25ft tall, where you just jump from top which seems scary a bit but its fun, one giant obstacle course for everyone and one small obstacle course for kids packed with fun, Dj at the Centre to keep the flow of excitement, there are two more games which will make the park look good on weekends.
HOW MUCH
Tickets : Tickets include a dedicated time slot of 1, 2 or 3 hour. An adult must make a booking in order for anyone under 18 years of age to be booked.
1-hour admission:
Ages 7+: $31.50
Under 7 years old $21
How to get tickets?
WHEN & WHERE
Date & Time:
June 15 – September 30, 2022
Monday–Sunday | 9:00 AM to 10:00 PM
1-hour Toddler Only Experience: Monday – Wednesday
Venue & Address :
Inflatable theme park, 1770 King Edward Street, Winnipeg